"I do not beg to use my instruments; instead, I convince through quality."
~ Paolo Fazioli
Since 1981, each Fazioli instrument has been individually handcrafted, combining passion with the highest quality materials with the finest workmanship and technology.
Until today, Fazioli has six different standard grand piano models to choose from, and also an array of awe-inspiring art-case pianos by Fazioli artisans to execute virtually any custom-ordered artistic variation on the six models.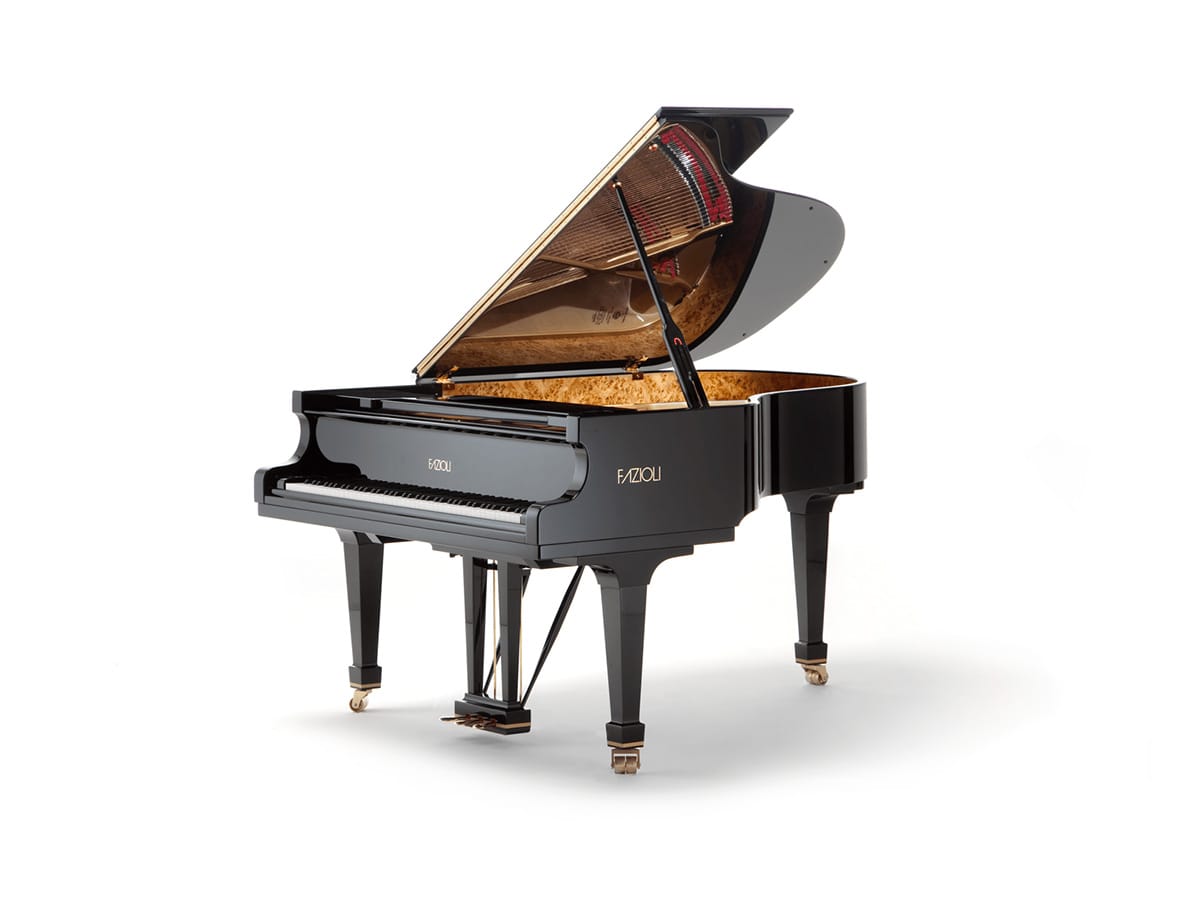 精细选料、精工制作、精心服务、精益求精
~ The Yangtze Philosophy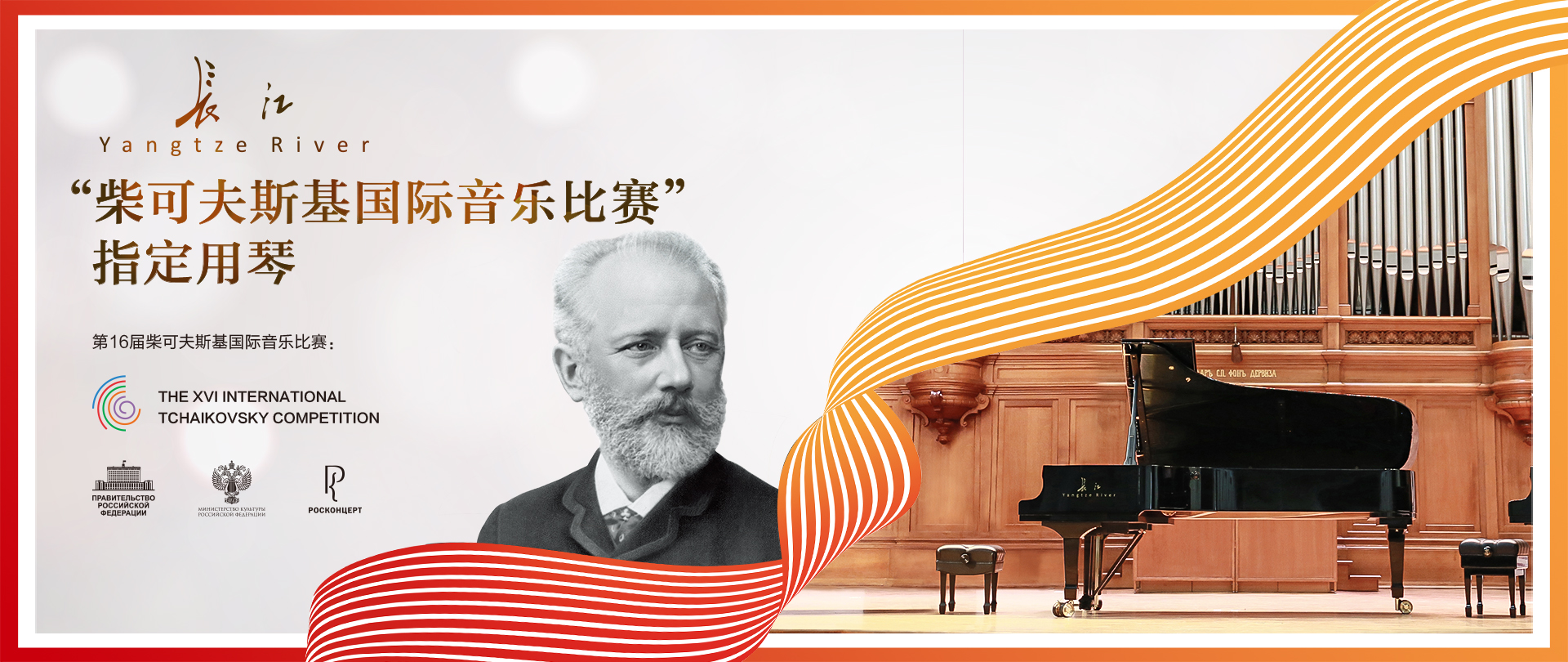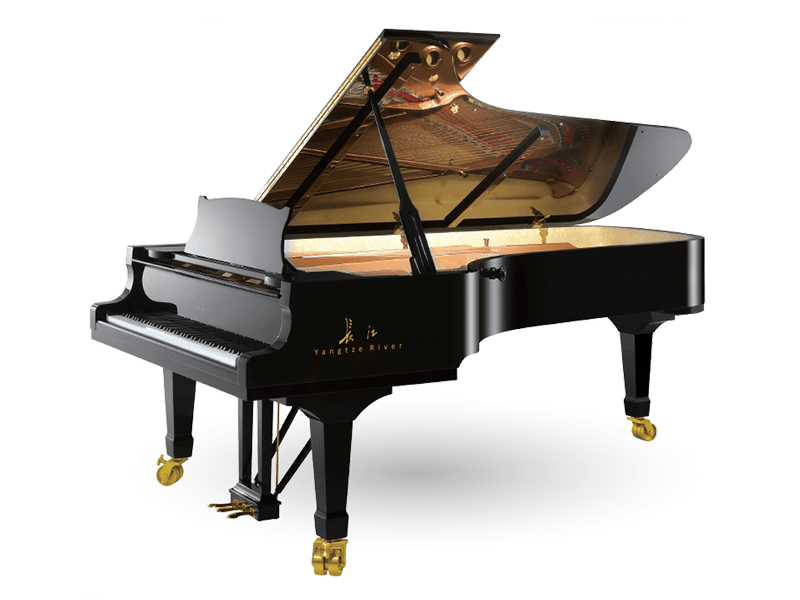 Voice of Glory at the Top of the World
Inaugurated in 2000, Yangtze River Piano Brand sets out with the mission to incorporate outstanding german piano technology tailor-made to Asian requirements at its best. It has received uncountable awards and recognition in China for its impeccable and outstanding technique in creating pianos in merely a few years and became "The National Piano", staged for the most important music and government related events and concerts.
Their unceasing effort to promote classical music into the Asian culture has also secured support and testimonials from international musicians and renowned music conservatories in the world.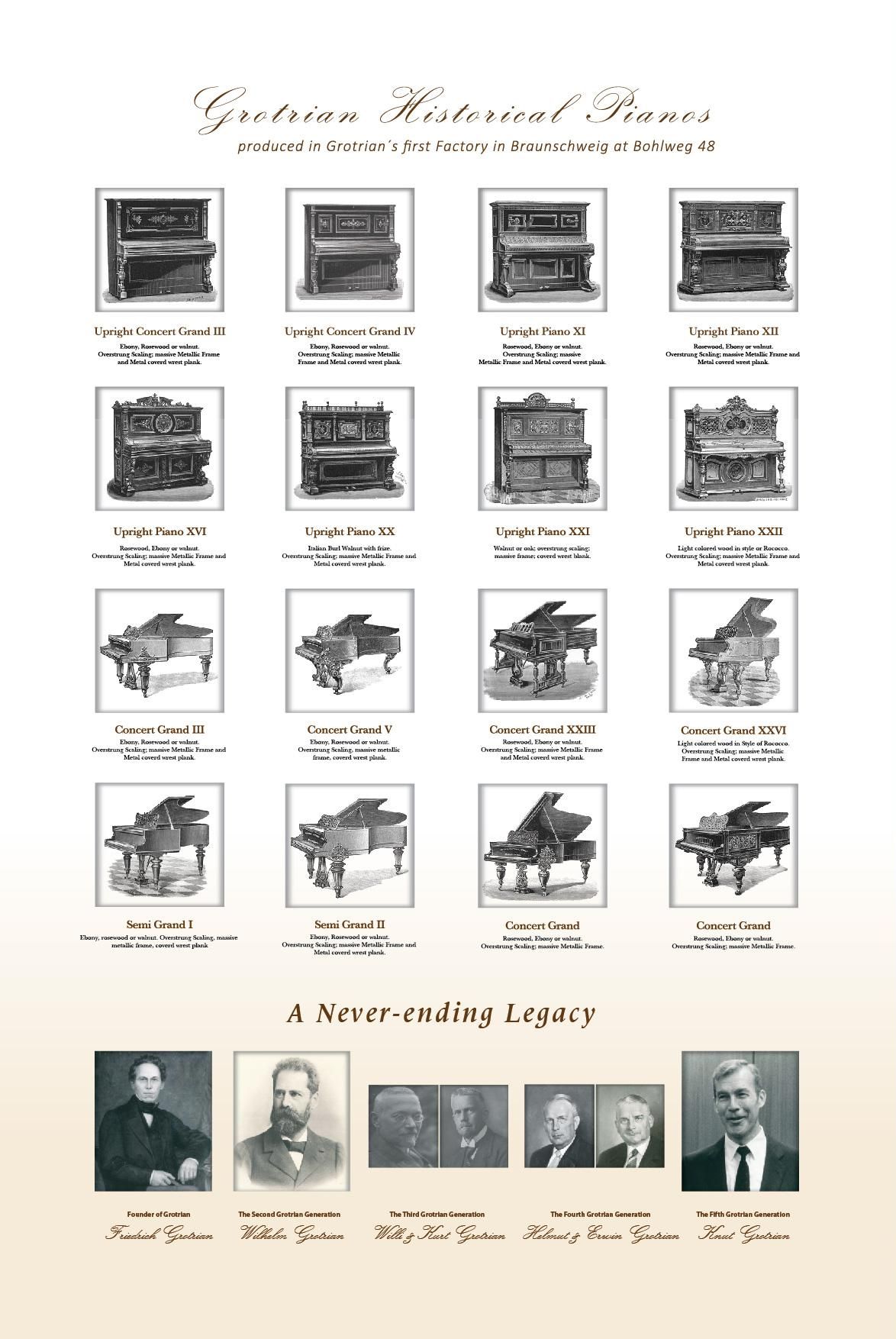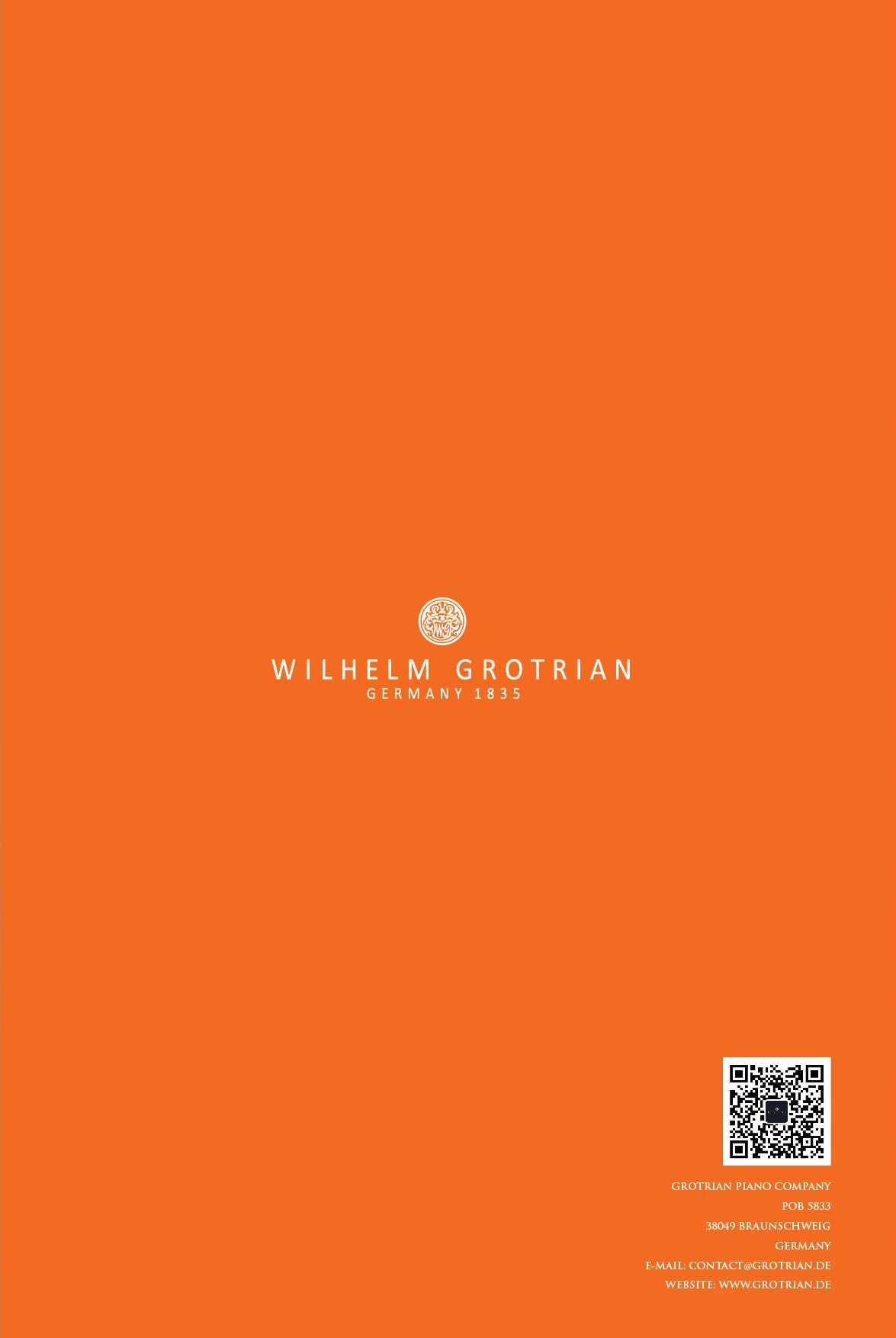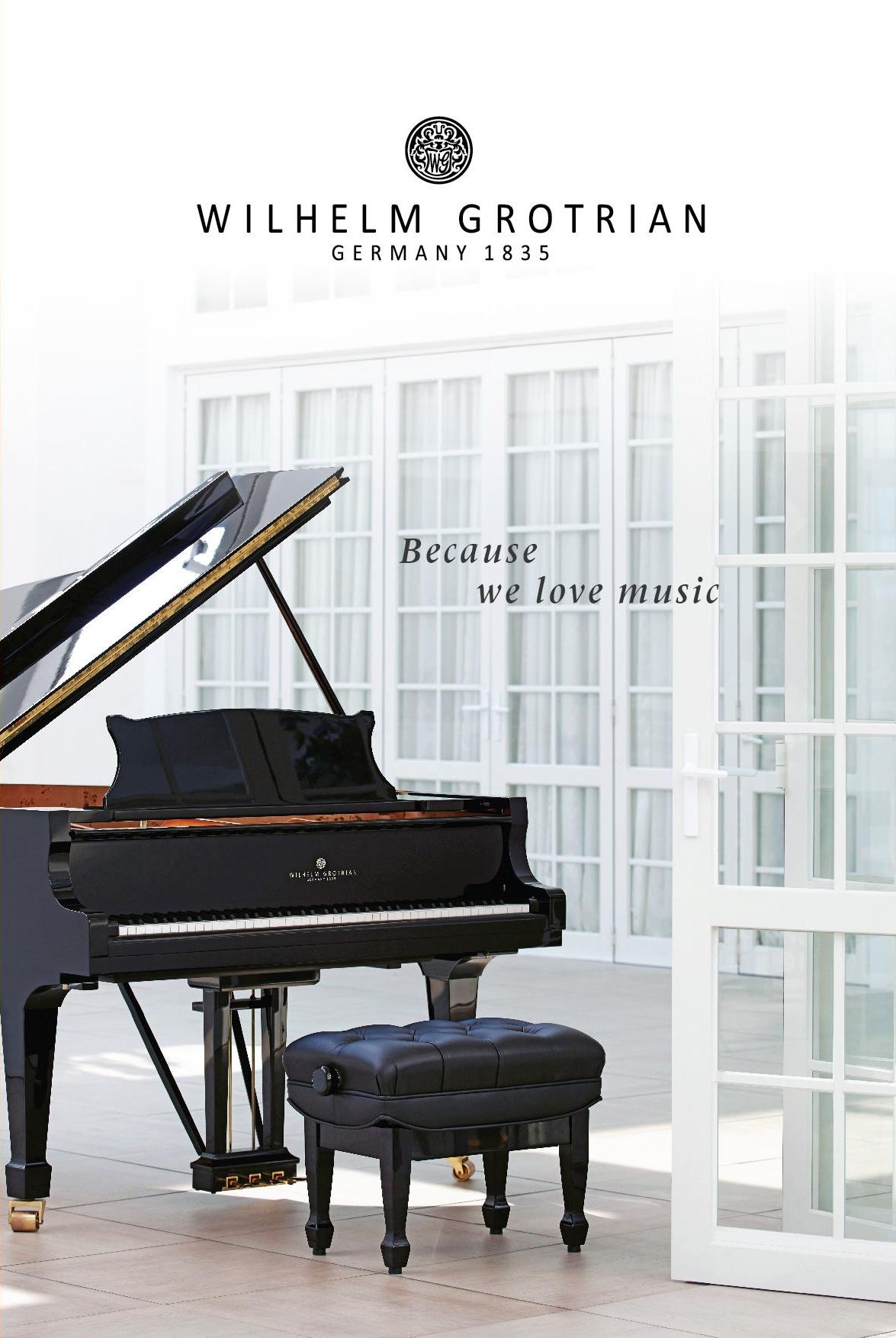 First Choice: »From now on this piano and no other«, said the celebrated pianist Clara Schumann after playing a GROTRIAN. She was not the only one: many well-known musicians and composers prefer GROTRIAN instruments from Braunschweig (Germany).
The piano manufacturer GROTRIAN is family-owned and currently in the fifth and sixth generations. Across the years one thing has never changed: the love for music. This has always been and still remains the motivation even for unusual steps. In 1830 Friedrich Grotrian left Germany to establish a music business in Moskva. The town prospered and attracted many musicians like Clara Schumann, Franz Liszt and A. Rubinstein. Friedrich Grotrian maintained close relationships with many pianists and got to know their preferences. He started to build pianos. Pianos, which were loved by pianists.
The new product line is named after Wilhelm Grotrian, representative of the second generation of the German Piano Brand, Grotian. With WILHELM GROTRIAN, we offer the highest quality pianos in their price range. To achieve this high standard, we only use the best raw materials from the most prestigious suppliers from all over the world. During the production process, we combine high-tech production methods with experienced craftsmanship.
Convince in sound, touch, performance and expressiveness.

The One Smart Piano a new and easy way to get into music. We want to let more people enjoy the fun of playing music even if they're not on the track to do music for a living. We really believe that everyone is born with the ability to do music, and you're going to believe it after you experience that learning piano can be this easy and fun.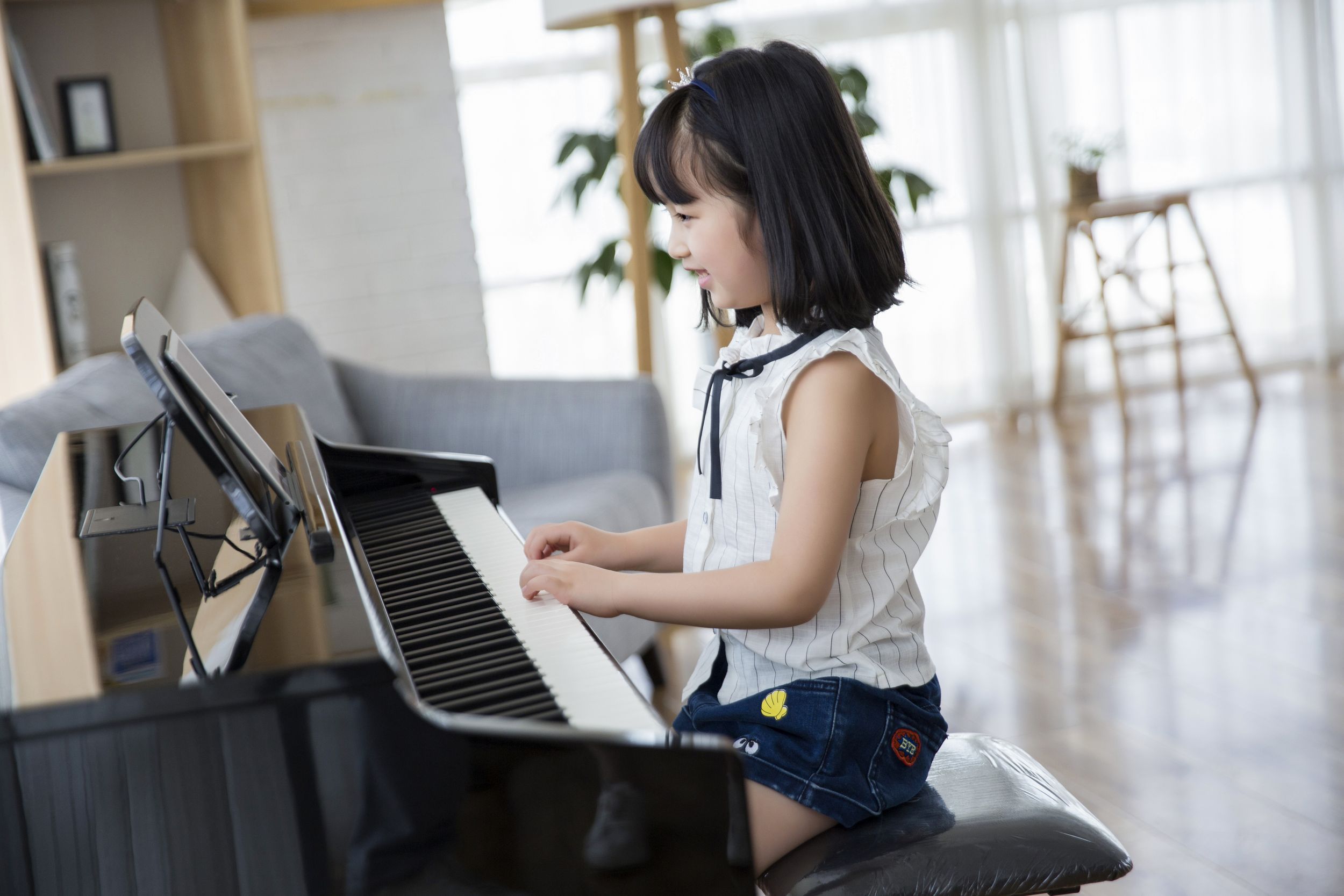 Loved by 200,000+ users all over the world,  The ONE Smart Pianos are smart musical instruments incoporating digital technology to make music learning more enjoyable and affordable. Utilizing the latest in smart learning technology, our products are created for all ages and levels and offer a fun and enrichin way to learn piano.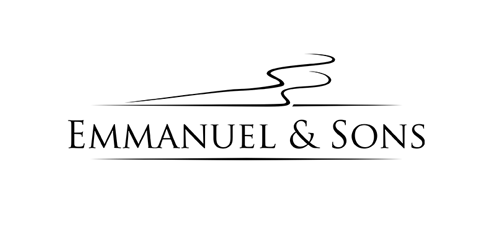 Emmanuel & Sons was founded by Mr Kwan Ek Sion, a pioneer piano artisan in Singapore, who witnessed the evolution, ebbs and flows of the piano retail market.
His vast experience working with internationally acclaimed pianist musicians and renowned piano manufacturers have propelled Emmanuel & Sons to the eminence and recognition for value and quality, from the extensive products to the services offered.
Emmanuel & Sons is currently the exclusive agent for FAZIOLI Grand Pianos in Singapore and Yangtze River Pianos, Wilhelm Grotrian as well as the sole distributor of The ONE Smart Pianos & Classroom in Singapore and Malaysia.
Our mission is to bring together the best of East and West in the piano domain, to engage our local and international clientele and deliver the best experience beyond their expectations on piano musical appreciation.